Setting the standard for online video quality.
Broadcast Over the Internet Book 3: The Quality Mandate
It's not enough to stream your content. You need to meet the expectation for quality that broadcast TV set more than 50 years ago. Because if your viewers have a bad experience, they'll associate it with you, the content provider.

But how do you define quality? And what happens if you fail to deliver? Find answers in The Quality Mandate, our new e-book, which looks at:
The rising viewer expectations for broadcast TV-quality or better every time, on every device,
Eye-opening research that measures how video quality affects viewers' emotions
The impact of video quality on different business models, including transactional, subscription, and ad-supported services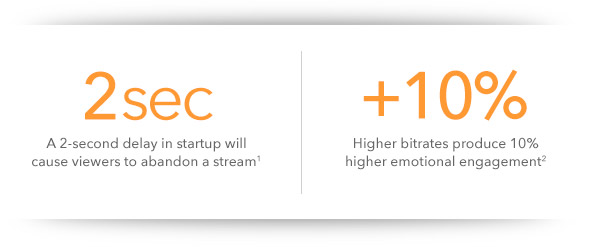 Learn why better video quality means better business in The Quality Mandate.

1 University of Massachusetts, Video Stream Quality Impacts Viewer Behavior, November 2012.

2 Akamai, The Video Experience Equation, 2017.