Choosing the Right CDN for an Evolving Internet
There are over 13.2 billion connected devices in use worldwide today. Can your CDN help you optimize the online experience for all of them? Explore this topic as well as:

How to deliver against:
Richer, more sophisticated content
Evolving Protocols and formats
Attacks of increasing scale and complexity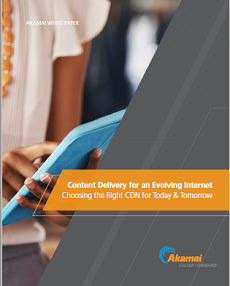 Learn how to overcome the business challenges that could hold you back from succeeding in today's fast-changing marketplace.
Download this new Resource Guide by completing the fields to the right.