Survey Report: Online Gaming Trends & Challenges
The gaming industry's shift from disk to digital presents many unique challenges and opportunities. Digital gaming makes it easier than ever to get games into the hands of more players, in more places, more quickly. But, in order to take full advantage of this channel, companies need to overcome the challenges of the Internet.

TechValidate Research recently surveyed 131 Akamai Technologies customer accounts to find out more about how gaming companies are innovating the marketplace and the challenges that they need to overcome in order to do so. You will learn about:
The biggest business challenges that companies are facing
The most common types of cyber-attacks
How often companies are updating their games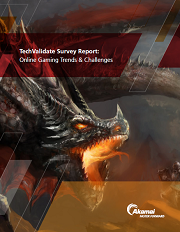 To find out more about the trends and challenges that online gaming companies are facing, download this exclusive survey report.