Webinar: Navigating the OTT 2.0 Landscape
The more your audience misses, the more you'll be missing them.
Tune in to explore:
Examining the OTT Landscape
What is OTT 2.0?
What are the main components of an OTT workflow?
What are the key considerations to successful adoption?
We will also explain Akamai's leading role in the future of OTT and answer any questions you may have during a live Q&A.
Featured Speaker: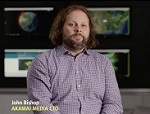 John Bishop — CTO, Akamai Technologies